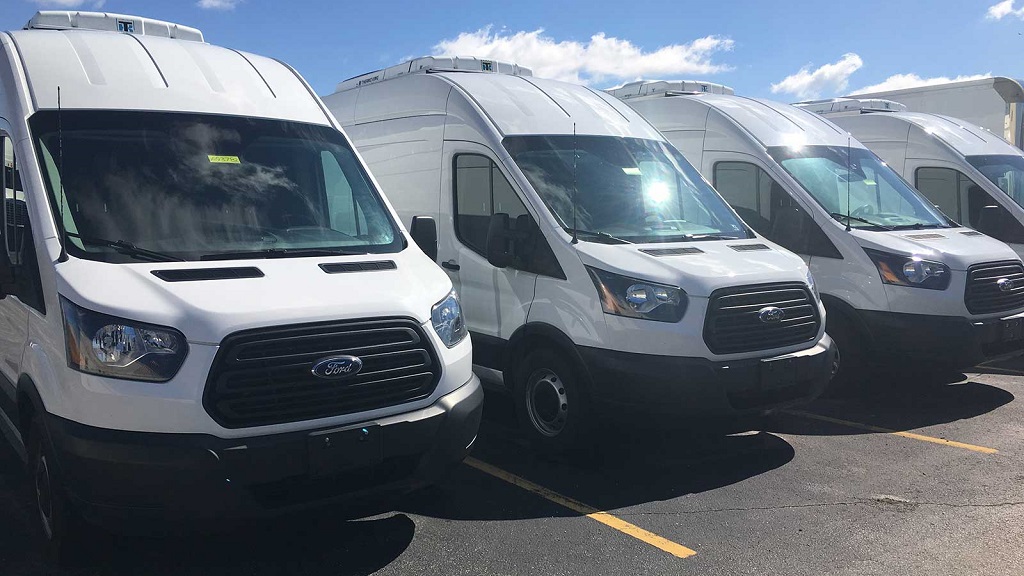 Refrigerated Van Sales
Refrigerated Van Sales is a family-owned and operated dealer of custom and "road-ready" insulated & freezer, refrigerated vans, trucks, and trailers. We sell, lease and rent refrigerated vans and trailers throughout the Southeast United States. Just call us at (678) 981-9544  for amazing deals!  We can have a van custom built for you or quickly add many options to a "road ready" van.  We provide financing as well as graphics, so you load your products and go!!!
Chassis
We start with chassis such as Ford Transit Connects and Transit Vans, Mercedes-Benz Sprinters, Nissan NVs, Dodge and Chevy as well as manufacturers of chassis for refrigerated van box, refrigerated cargo vans, and refrigerated sprinter vans, as well as refrigerated box trucks, straight refrigerated trucks and more!  If you have specific van requirements or need help deciding the best, contact us today for the best available options and pricing. We will provide prompt and courteous customer service to get the job done right. An industry-leading lifetime warranty backs all of our vehicles.
Insulation and Transit Boxes
The insulation is the first line of defense to maintaining the temperature and reducing the use of more refrigeration.   Of course we can build an insulated van if thats all you need. Our PolyVan rigid polyurethane foam system provides the superior insulation of commercially available insulation for vans. More...
Van Refrigeration Units
Van refrigeration units are the second most important yet critical to maintain temps all day. The type, model, and size tell not only the cost of operation but also repairs.  Wrong type, model or size and the operation cost rise.  Repairs always come when the demand is there, and getting the repairs fast and at a reasonable cost is critical.  Pick the wrong type and repair costs will skyrocket as frequancy, parts availability as well as repair facilities diminish. More...
Options
Many options are available that enhance the ease and profitability of your refrigerated van. We hope to help you decide the best options for you.  Here is just a list of some refrigerated van options.
Standby Power
Diamond Plate Floors
Barrier Curtains
Graphics
Including a fine graphic package in the financing make sense and can set you apart from your competitors.  It is the most cost-effective advertising.  Great graphics on your refrigerated van not only speaks well for your business but also your customers when you van is outside their business.  When their customers see your van, it says a lot about the food they are about to eat.  See more…